Where needle, thread, textiles and Pam's creative mind join forces to create beautiful things.  
Reproduction Flags
Throughout history, flags have identified their bearers as they claimed new lands, crossed oceans, met in battle, or represented their nation. Few items in living history today better symbolize eras gone by than the standard of a people's spirit, military unit, province, state or nation.  The colonial period of New York saw its fair share of colorful flags from the Dutch West India Company at Manhattan and Fort Orange in the 1620's, to, perhaps, the first stars and stripes ever unfurled at Fort Schuyler (aka Stanwix) in August, 1777.  In between were a host of national French, Dutch, and English flags, not to mention the provincial and military flags that were carried in their motherlands' honor.
Some of these historic flags are well known and examples are even on display in museums, while others need research to find adequate descriptions to reproduce with reasonable accuracy.  Things common to all flags in the colonial period, though, is that they were all made of natural fabrics, usually made of spun wool or silk.  They were also hand sewn.  Designs, such as stars, eagles, crosses, etc, were added by several different methods that included appliqué,  embroidery and paint.  No one in the colonial period, at least in the colonies, exclusively made flags simply because there was not enough of a demand to support a business or family.   Normally, a person known for sewing prowess would be contracted to sew a flag together and could usually handle any embroidery or appliqué work needed.  For more elaborate painted designs, a local artist might be sought out who could complete the desired concept. Luckily, Pam is a very talented artist who happens to have a master's touch with sewing.  We would be hard-pressed to think of a flag she could not reproduce.
Pam reproduces flags in the way they ought to be done – hand-sewn and true to the original.  Descriptions found in documents and any existing photographs will be used to help determine the fabric, color and design needed to re-create a flag with reasonable accuracy.  Where there are gaps in the documentary evidence, general practices of the day will be used.  Re-created military units know their standards and needs best, so they are encouraged to provide as much detail as they can.  In some cases, we are able to provide some assistance with determining which unit or regimental flags might be appropriate, with the goal being to produce a flag the unit will be proud to bear.  Whether you need a flag for your re-created military unit, a living history program, or to add a colorful visual to a museum exhibit, you can expect a high quality reproduction that can stand the "is it hand made?" scrutiny of the re-enactment community.
Pam's flag clientele goes beyond the American Revolution.  Clients include Civil War re-enactors and enthusiasts who have requested military and non-military auxiliary unit flags. In fact, Pam can make just about any flag from any era as long as there is enough documentation to determine how to make it.
The price for Pam to make a flag suiting your begins at $100, plus the cost of the materials.
Prices may vary depending upon the amount of labor; typically, the more elaborate the design, the higher the cost.  Contact us HERE to discuss pricing for a flag you would like to own. 
Personal Accessories
Pockets
Pockets are one of those items that young girls and women always wore during the colonial period.  Inside they kept items that might be used to play with when young, but inevitably they held such necessaries as scissors, thread, needles, thimbles, household keys, money, a snack to nibble on; just about anything small that they had to carry with them wherever they went.  Aside from being a valuable functional addition to an outfit usually devoid of any garment pockets, the waist pocket was often very elaborately embroidered according to the whims and personality of the owner.   Designs were colorful, inventive and frequently flowery.  In the designs might be found traditional cultural symbols filled with meaning, or they might just be a fanciful creation of an imaginative young girl.
Pam makes pockets of varying sizes and styles of embroidered designs common to the colonial period, along with her own creative interpretations.   She likes to make these a few at a time, so there is a fair chance there is already one in stock that might suit your needs. As always, ideas for custom designs will be entertained.  Prices will vary depending upon the size and intricacy of the embroidery desired.
More examples of pockets are found in the gallery below
Handbags
Pam started making these beautiful, sturdy, oversized, quilt-like handbags for Christmas presents to friends and family a couple of years ago and not only did they love them, but they passed on all the wonderful compliments complete strangers offered after getting their first glimpse.  And who can blame them?  Each bag is unique – there will never be two of a kind.  The color schemes and patterns are well-thought out and vividly executed.  Often, but not always, embroidery work accompanies a central theme that has ranged from Adirondack wilderness to birds, from fruit to flowers.   In fact, each bag has a sense of place and mood all its own; a style unto itself.  The interior is roomy, sporting a convenient pocket for smaller items that may have a zipper or clasp.  The bags close with a magnetic clasp and the handles are double-stitched for strength.
As a library aide, Pam  is almost always carrying a lot of "stuff" back and forth to work and this bag fits the bill perfectly for carrying a  lot of "stuff".  Whether you're a teacher who is constantly carrying books, lesson plans and reams of paperwork, a busy new mom who needs something pretty to hold all the "baby stuff," this bag is made with you in mind!  Inquire about prices.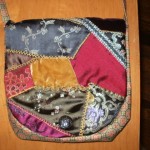 For those of you looking for something smaller, yet just as stylish, Pam also dabbles in smaller handbags with the same quilt-like quality.  These sleek patchwork bags work equally well as a small purse or carrying bag.
Gallery
Click on all images to enlarge
Pockets
Handbags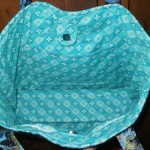 For more information, availability and prices of items shown, and all other inquiries, please go HERE